All versions have durable medium features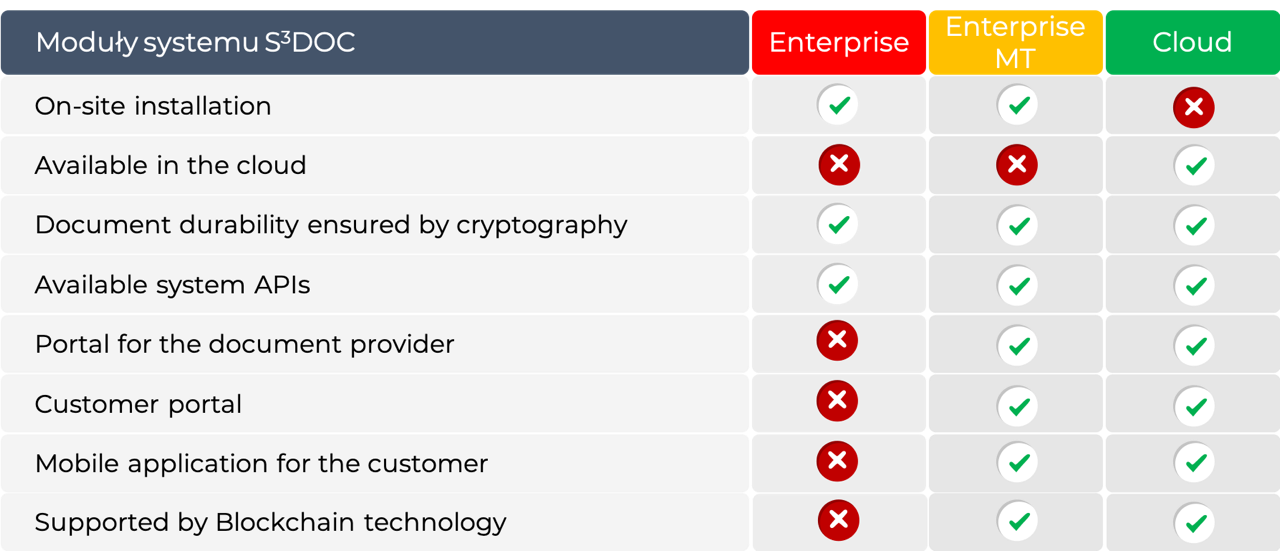 The S3DOC system is an innovative IT system in the EU with the features of a durable medium. These features are guaranteed by standard cryptographic techniques and methods.
The system works well in any industry that is associated with the regulations of the MIFiD and PSD/PSD2, including banks, insurance companies, investment funds, payment intermediaries, but also online shops (e-commerce) and service and media providers such as telecommunication, cable TV, electricity, gas. 
S3DOC system is characterized by a much lower total cost of ownership (TCO) and faster implementation time than the competition. The S3DOC system is supported by Blockchain technology. S3DOC is also compatible with GDPR.
There are several versions of the S3DOC system available, which are tailored to the needs of different categories of customers.
Enterprise version is prepared for customers who want to have the entire IT solution at home on their own infrastructure. They completely manage the data that is collected in the S3DOC system. This is the most efficient version of the system optimized to handle hundreds of thousands of documents. There is a possibility of building performance and reliability clusters.
Enterprise MT (Multi Tenant) version is the most advanced version of the system. It has the features of Enterprise version and includes additional functions such as temporary and permanent blocking of documents, removal of personalized documents in accordance with GDPR. This version is designed for large multi-branch organizations.
The Cloud version is designed for organizations that do not want to invest in their own infrastructure. This version has similar functionality as Enterprise MT. The system is installed on the software manufacturer's infrastructure and is available in the form of SaaS. There are several versions of the subscription, which are tailored to the needs of companies of different sizes.
All versions of the S3DOC system support encrypted SSL communication. The system also has an API for integration with other systems such as document workflow systems. 
S3DOC system is prepared to store data in various formats.
These can be files:
MS Offfice files
PDF files
Multimedia files such as phone calls
Binary files
Text files
Json objects, xml, etc.