S3DOC Portal for document recipient
The S3DOC Portal module allows access to documents stored in the permanent media repository that have been submitted by their publisher. The recipient must have a defined account to log in to the system. The recipient's account is added by the publisher of the documents.
The main screen has a simple and legible layout which makes it intuitive and easy to use the available functions.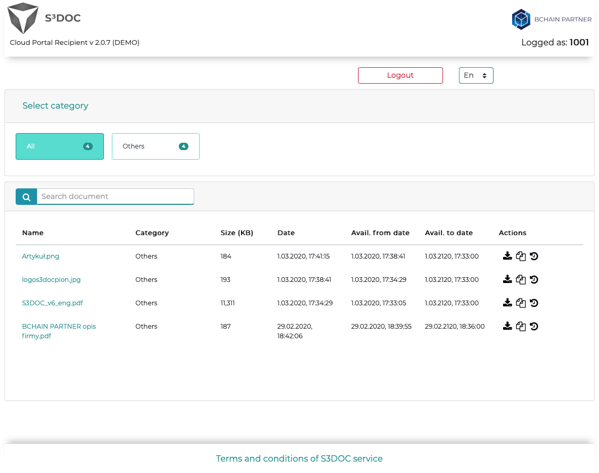 Fig. Main screen – category view
Functions available for documents:
Document preview (by clicking on the document name)
Downloading the document to the local disk
Copy a unique URL link with document access to the clipboard. The link can be sent to any recipient. The document will always be available under this link. Everyone who has access to this link can view the content of the document.

The preview of the document history allows you to view all events performed for the document. The events such as:

adding a document to the durable medium repository,
to hand the document over to the recipient,
opening the document by the recipient,
downloading the document by the recipient to a local disk,
submission of the document by the S3DOC eSign module for approval,
decision performed by the recipient (acceptance, rejection, etc.)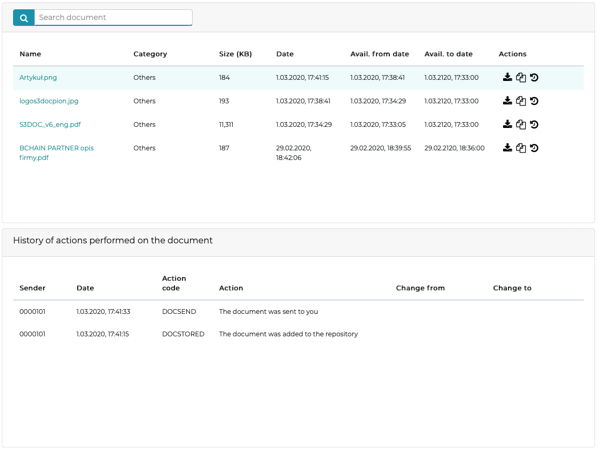 Fig. History of the document